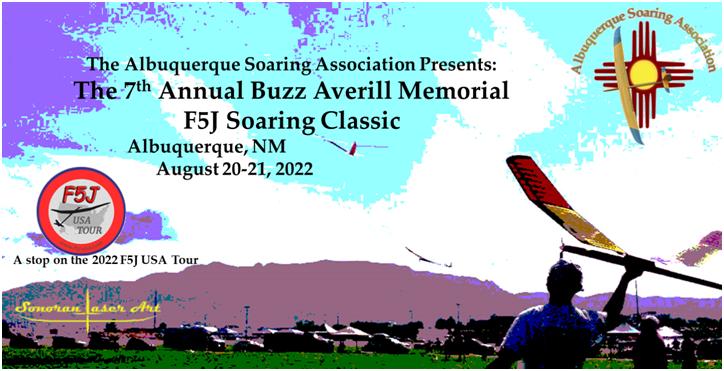 <![endif]>
Our 7th Annual BAM F5J Soaring Classic honors our long-time founding club member, leader, soaring expert, and all-around great guy, Buzz Averill (see tributes, and Buzz video ) . This event is part of the 2022 F5J USA Tour , and is an AMA-sanctioned event. Follow the discussion and latest information on RCGroups.
Dates:  August 20-21, 2022.
Contest Site:  Albuquerque Balloon Fiesta Park, Albuquerque, NM   (GPS Coord:  35.1978839,-106.5974739)
The Park is home to the world famous Albuquerque International Balloon Fiesta and features acres of lush grass and thermals.  It is convenient to lodging, restaurants, and other necessities.
Water and refreshments will be provided on both days (included in registration fee). Lunch may be ordered for an additional fee on contest mornings.
Registration: Register here or fill out and mail in attached form. Registration closes August 17, 2022 at 11:59 pm. MDT
Entry Fee and Requirements: $100 (non-refundable—unless event is cancelled due to COVID relapse or low advance registration).
ALL PILOTS MUST BE AMA MEMBERS. This is an AMA-sanctioned event--Membership cards will be checked. Non-US pilots may sign up as an AMA Affiliate Member for $36 at check-in.
Awards: Open Class: Top three places—all pilots eligible: Airframes per FAI F5J rules.
'Woody' and 'Foamy Class: To encourage participation by pilots owning inexpensive models, awards for the highest scoring 'Woody' and 'Foamy' classes of electric sailplanes.
'Woody'4-m and under wingspan with built-up wing (composite spar and composite fuse ok, no composite D-box). 'Foamy' 4-m and under wingspan constructed from foam (e.g. Radians and similar)
Other awards TBA.

Contest DIrector: Greg McGill glidermang@gmail.com
Phone: (575) 642-7679 (m)

Registrar: Richard Shagam RNShagam@gmail.com
Phone: (505) 298-2163 (h), or (505) 980-3513 (m)
Contest Schedule:
Friday: Registration and optional test flying day starting around 9AM. A frequency board will be available and must be used. Morning flying will be conducted on a grass panel TBD (Note: Please enquire regarding safety rules enforced on this panel.)
<![if !supportLists]> Friday Evening August 19, pilots welcome to get together (Venue TBD—Pay as you go)

Saturday: Balloon Park Gate will open at 7am. Registration/Check in time is 8:00 AM. Pilots' meeting is at 8:30 AM.
First group will fly at 9:00 AM. Flying will be in groups of not more than 12 pilots with a 10 minute working time/5-6 minute prep time between groups.
We will stop flying as near to 5:00 PM as possible. If we can complete 6 rounds, we can have a throw-out round.

Saturday Evening: Dine together, venue TBD (Pay as you go)

Sunday: Pilots' meeting 8:30 AM. First group will fly at 9:00 AM. We will stop flying as near 1 PM as possible. Fly-off rounds to follow after lunch break.
General Rules Summary
The contest rules will be in accordance with the F5J USA Tour as posted here. The following rules shall also be in effect:
Due to the fenced-in environment at the Balloon Fiesta Park, emergency motor restarts are allowed, resulting in a zero score for the Flight Round per Tour rules. Otherwise, a 'significant' delay may be encountered in attempting to recover the model after an out-of-park landing. Pilots whose models land within the boundaries of the Golf Center at Balloon Fiesta Park will be required to report to the Golf Center Office to arrange for retrieval of their models. We encourage you set your device to 'restart'—better to lose a round than an aircraft.
A pilot may alternate aircraft to qualify for the "Woody Award," for which only those rounds flown will count towards that award. All rounds flown will count towards the general awards and overall F5J Tour Standings.
Penalties: Safety violation penalties will be assessed, per FAI rules . including, but not limited to low flying over, or landing in 'pit' areas, the access corridor, the Golf Center, and other zones declared as safety or 'no-fly' zones by the CD.

The CD will announce additional rules/changes/restrictions as field conditions may warrant.

Scoring: The program GliderScore will be used to score the event per the F5J rules. Scores will be entered by pilot/helper using the smartphone-based GliderScore eScoring Interface. Please install a QR code reading program on your smartphone (Many phones already have this capability in the camera app). Paper score sheets will be available for use by pilots without smartphone access. Scores shall also be entered on the score sheets provided, for verification/backup. Rounds flown as "Woody" or "Foamy" shall be marked as such on the score sheets. The pilot receiving the highest point total for 'Woody/Foamy Class' flights shall be the winner of that class.
Altitude Recording Devices: Must be FAI-approved. The most widely used altitude recording devices are the Aerobtec Altis V4+: http://aerobtec.com/altis-v4/and the Soaring Circuits CamF5J: http://www.soaringcircuits.com/. Altitude recording devices must have any altitude limiting switches disabled and may be programmed to allow emergency motor restart—in which case the display should indicate a null altitude. Real-time telemetry (other than on-board battery voltage or RSSI/signal strength) broadcasting altitude or position back to the pilot must be disabled.
ADDITIONAL INFORMATION:
Lodging:  Representative motels near the park can be found here:  Lodging Near Balloon Park
RV Parking: Sorry, no overnight parking is allowed in Balloon Fiesta Park. A KOA campground is available in Bernalillo, NM (10 mi no. of BFP). https://koa.com/campgrounds/albuquerque-north/
Directions to Balloon Fiesta Park:  Balloon Fiesta Park is off of I-25 near Roy/Tramway Road on the north edge of Albuquerque. Set your Navigation Device to 5000 Balloon Fiesta Pkwy NE, Albuquerque, NM 87113 From the North: Enter the Southbound Pan American Freeway (I-25 Frontage Road at Roy Road) and make a right turn (west) at the Blue Cross/Blue Shield building (Balloon Fiesta Parkway—may not be marked!!!) From the South: I-25 exit at Alameda Blvd. Drive west to San Mateo Blvd. Right turn (north) to Balloon Fiesta Parkway. Continue driving West and enter through Gate 3 at the west end of Balloon Fiesta Pkwy. Please do not try to enter Balloon Fiesta Park via any other gate/entrance as they may be locked!

A club official will be present from 7 – 8 AM contest mornings to open the automatic gate and issue a gate pass and parking instructions. Other days/hours are TBD. For practice day (Friday) a number to call for entry will be posted at the gate or on the RCGroups thread.

Other rules: (these are not meant to spoil your day)
After unloading your vehicles, please move them to the designated parking areas. Absolutely no parking or driving on grass surfaces. No dogs (other than service animals), smoking, glass containers or alcoholic beverages are allowed in Balloon Fiesta Park 'Pop-Up' Canopies are allowed. Do not use long spikes that might damage the underground sprinkler system.
Looking forward to seeing you here in August!!!