April 2020 COVID-19 BUILDERS PAGE
What ASA members are doing during the pandemic while sheltering in place!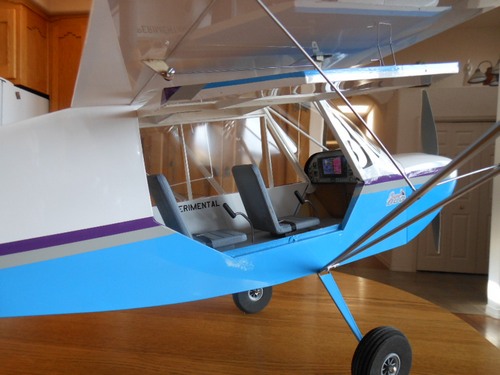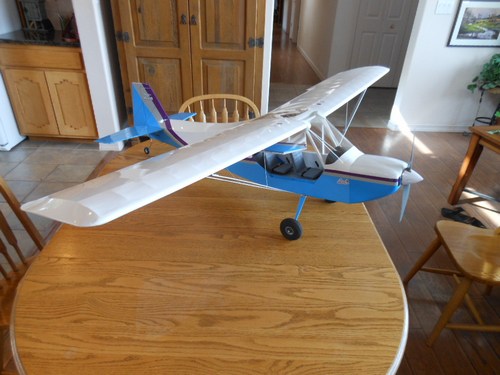 Stan Johnson's Rans S-7S Courier built from a Pat Tritle kit. 5 foot span weighing 3 pounds, full house electric!

Yellow Jackets at the sod farm. Greg,Kirby,Terry.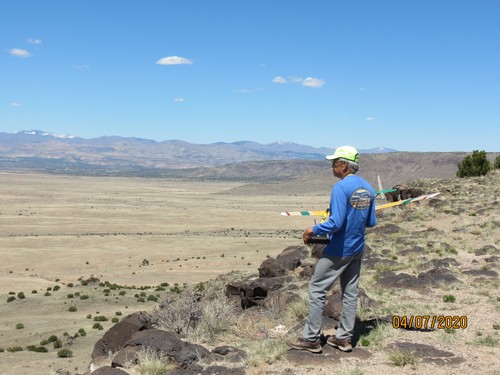 Dan and Greg social distancing on LaBajada hill. Ernie waiting for the optimum gust!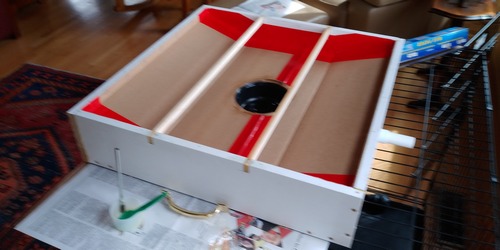 Steve Moskal and Vic Newton built a downdraft sanding table 24"x24", showing interior and exterior views. Attaches to shop vac. 6" deep with feet and brass handles for storage.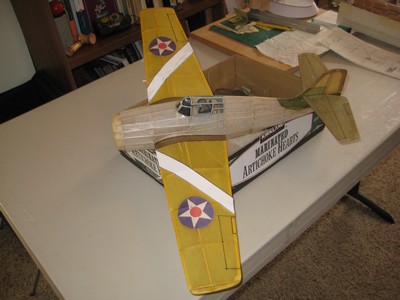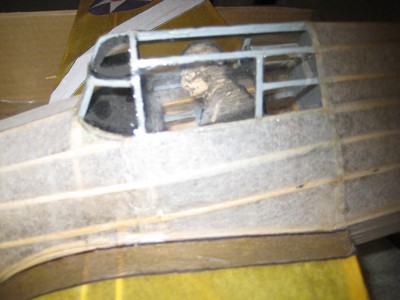 Efrain Villa's rubber powered, stick and tissue SAM elegible model kitted in 1942 Grumman Wildcat F4F-3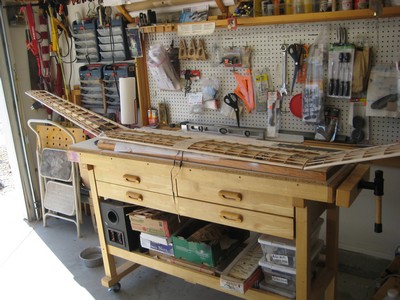 Efrain's shop and Mirage sailplane wing for SAM woody class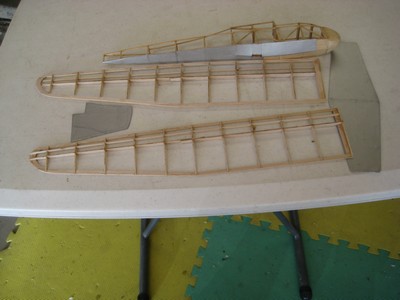 Efrain's Slignsby Prefect stick and tissue glider in the process of covering with silver color Esaki tissue.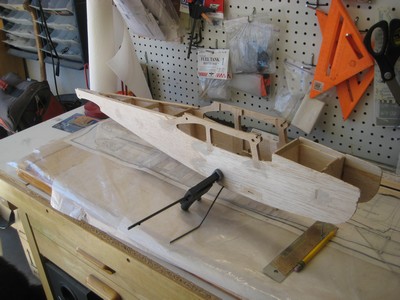 Efrain's Goldberg 1/2A Cessna Skylane electric conversion. It was selected as the stand off scale model for 2020 by the Vintage R/C assn.
Efrain's a busy man!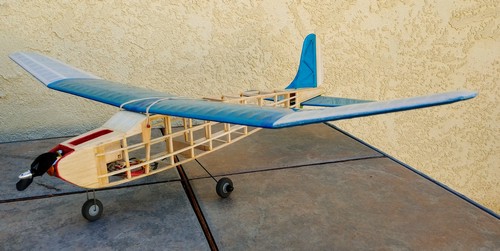 Steve Moskal's 28" span model of a 52" span Berkeley kit, Bootstraps A-RC. A 1950's rudder-only RC design.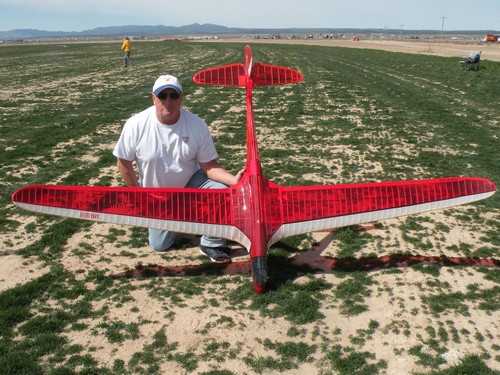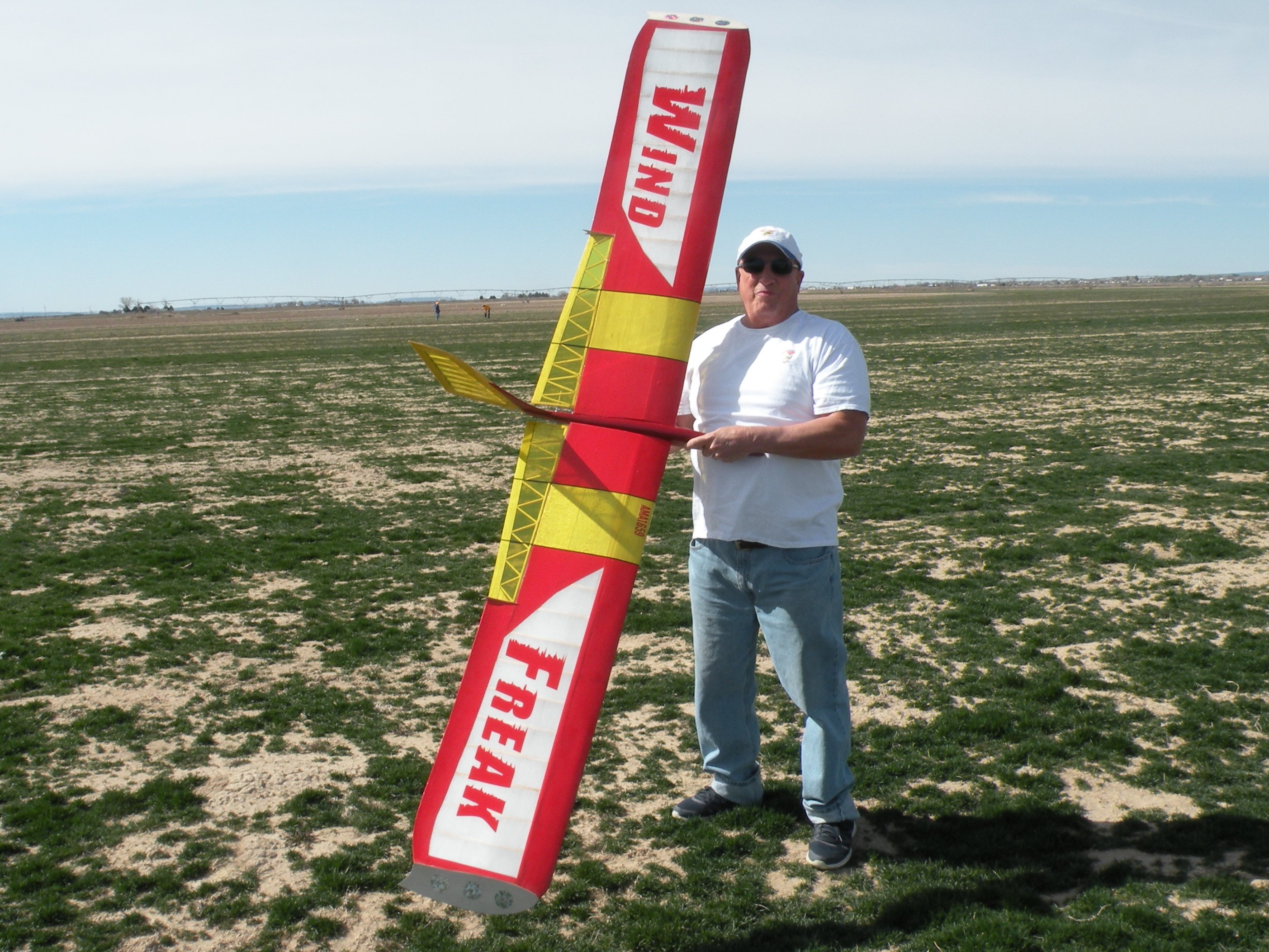 Bob Gallers Champion and Wind Freak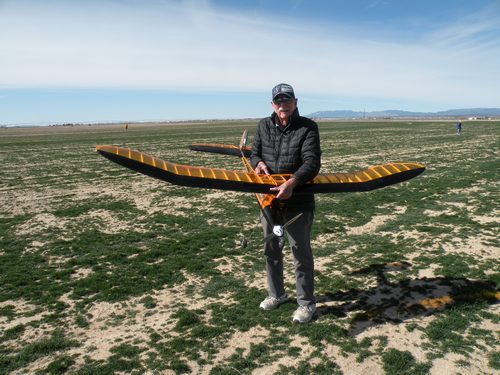 Richard Dick's Stardust Special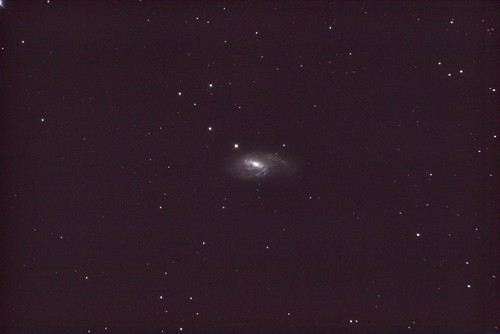 Richard Shagam: Not an airplane, but way out there. M66 galaxy from my driveway!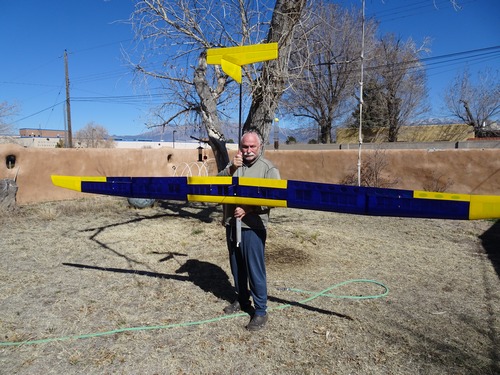 Mike Carris' latest creation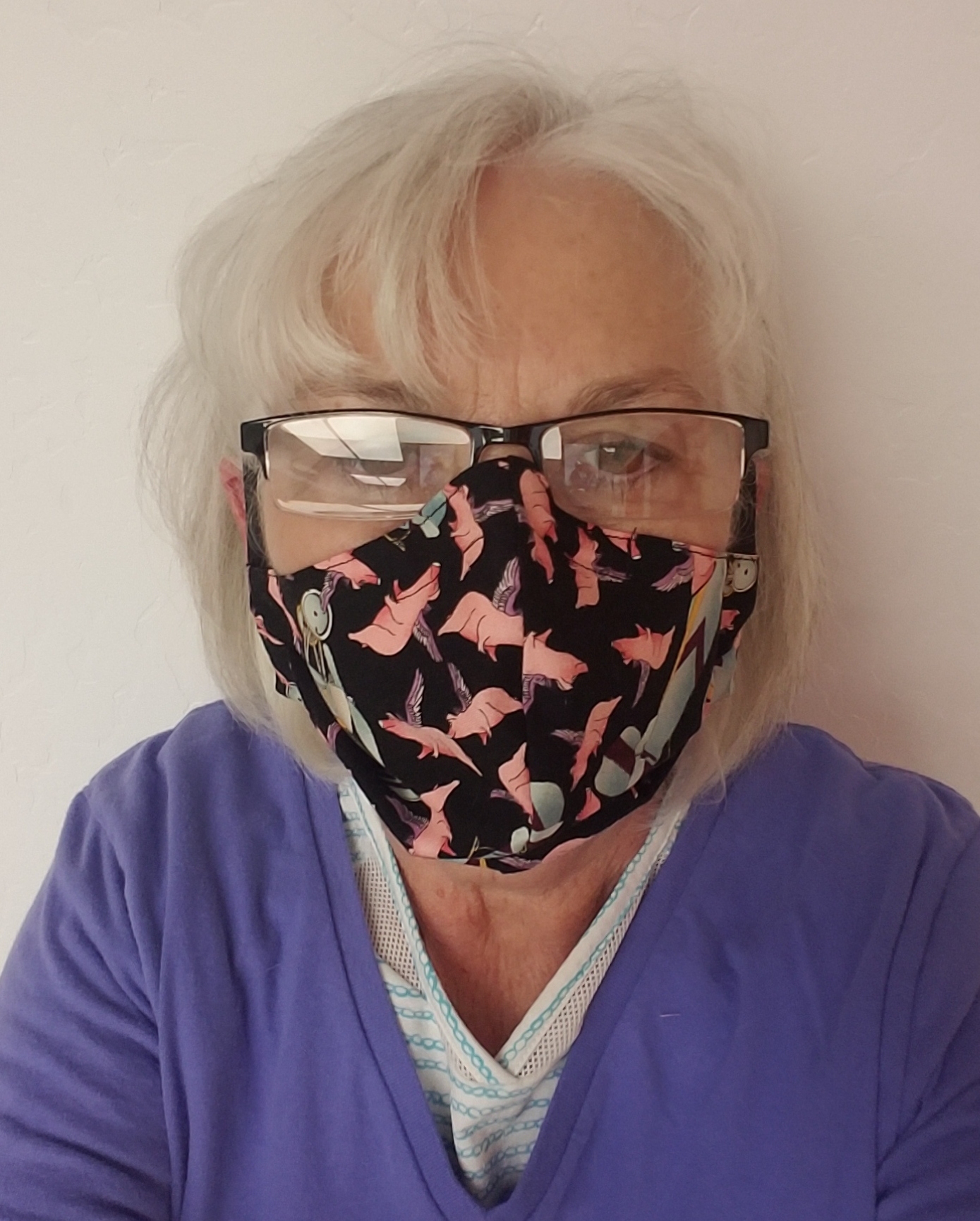 My wife Deb has made over 60 masks so far in the last two weeks. (flying pigs!)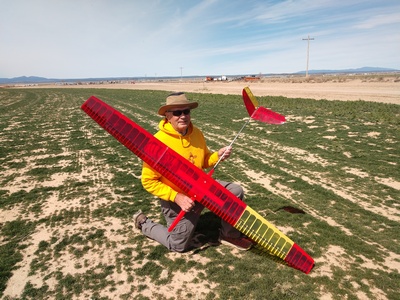 Greg McGill's new 2 meter yellowjacket kitted by Corky Miller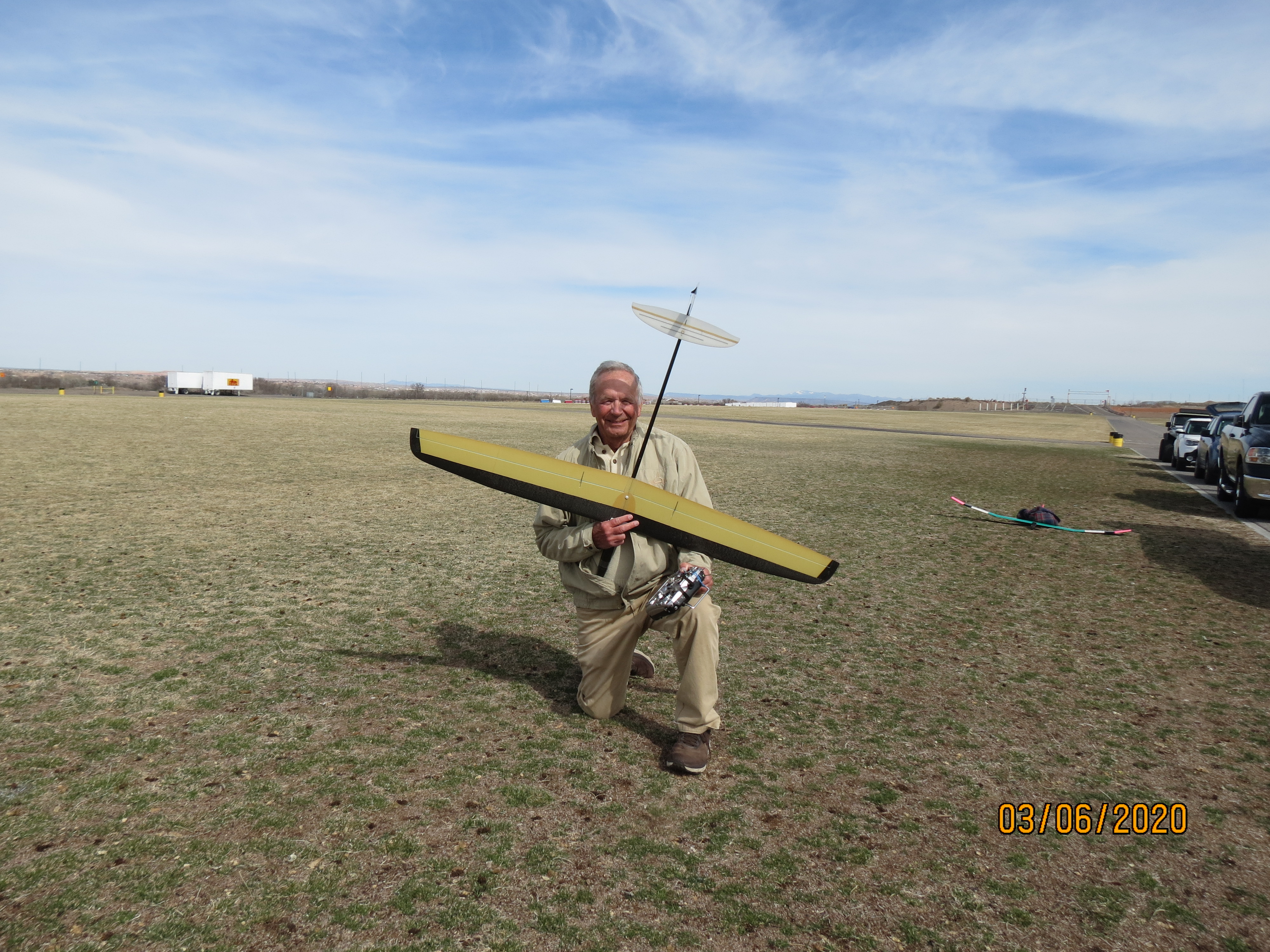 Greg: I picked this up in Phoenix, when Kirby and I just beat the deadline for staying at home, in February. It is a NIB Arrow Pro from Shaper Dave in Hawaii. He made these from roughly 2006-2009 by the hundreds. This one went out in 2006, and as near as I can tell was never out of the box in all that time. I built it with help from Dave himself. At his suggestion, I used my last set of Swindell's tails, and pull-string controls. Final weight is exactly 9.0 ounces, which Dave says is very impressive. What a flyer! It loves to climb and is my primary, fun airplane now. I only screwed up one item in the build: when I was attaching the tail mount, a drop of thin CA wicked into the tail bolt, and now it is permanently mounted. So, no travel box for this one!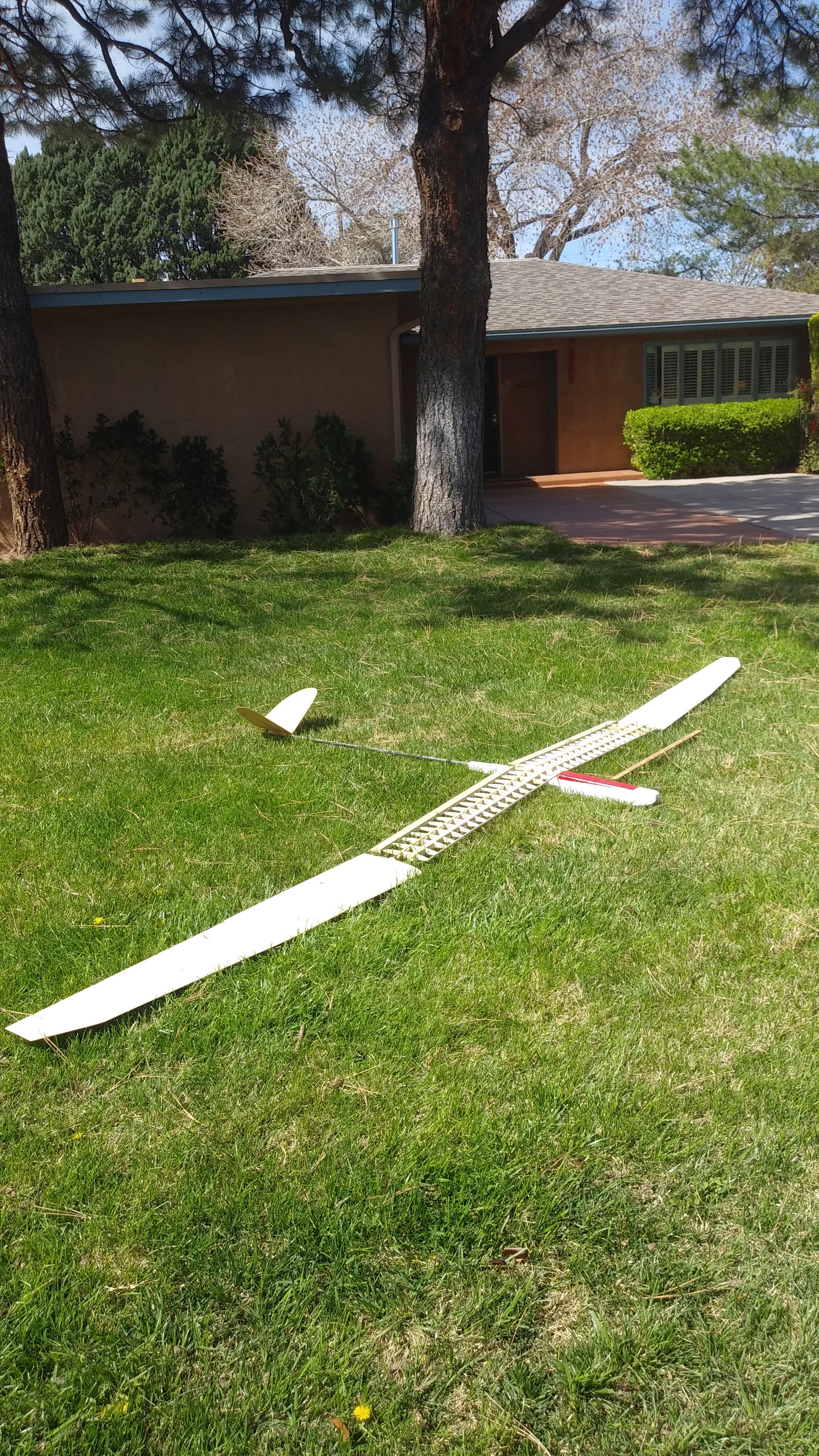 Terry T. is finishing "long-lost" project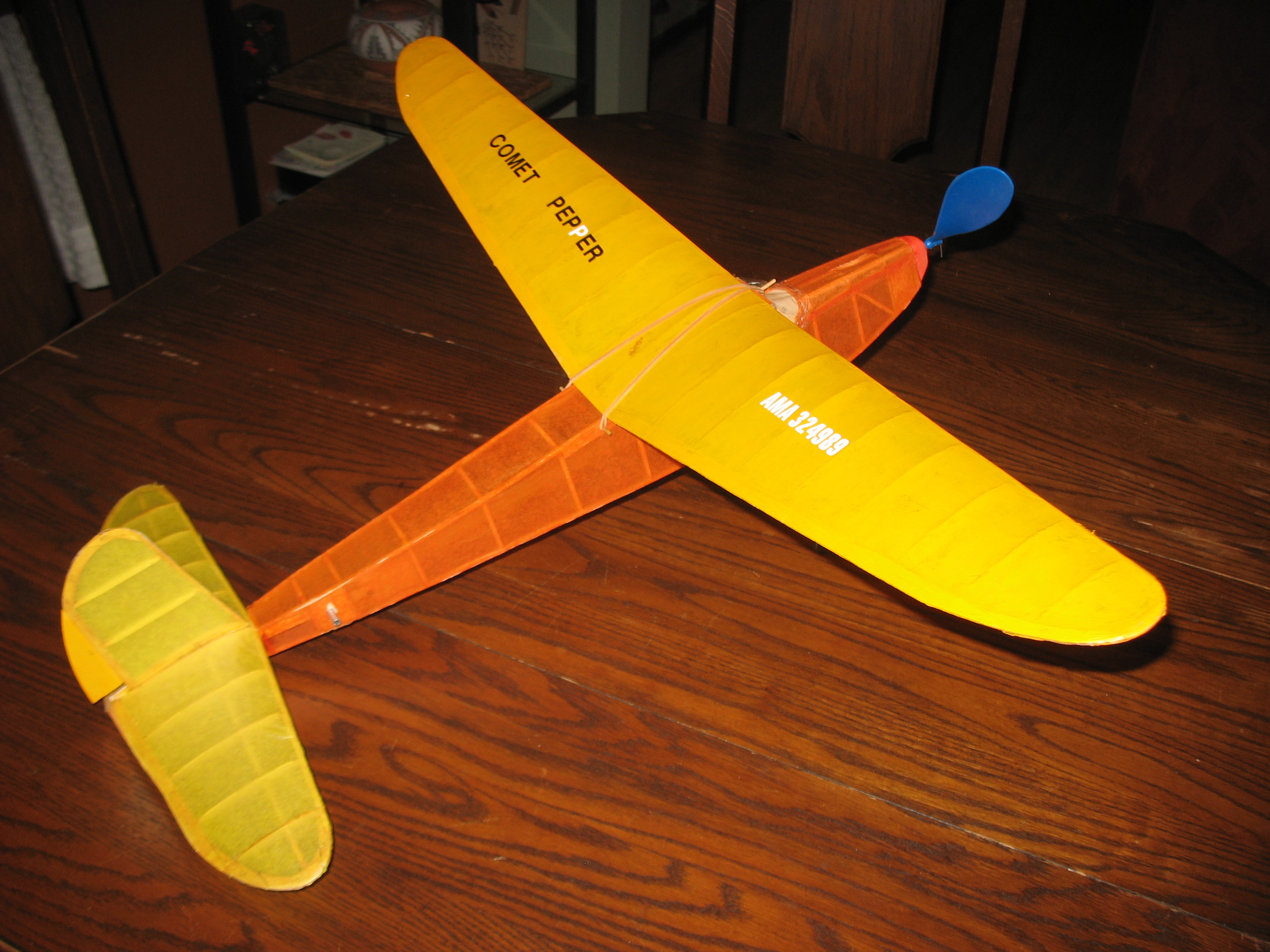 Richard Dick: I built a rubber powered model called the Comet Pepper that I have yet to fly. I'm waiting for a calm day.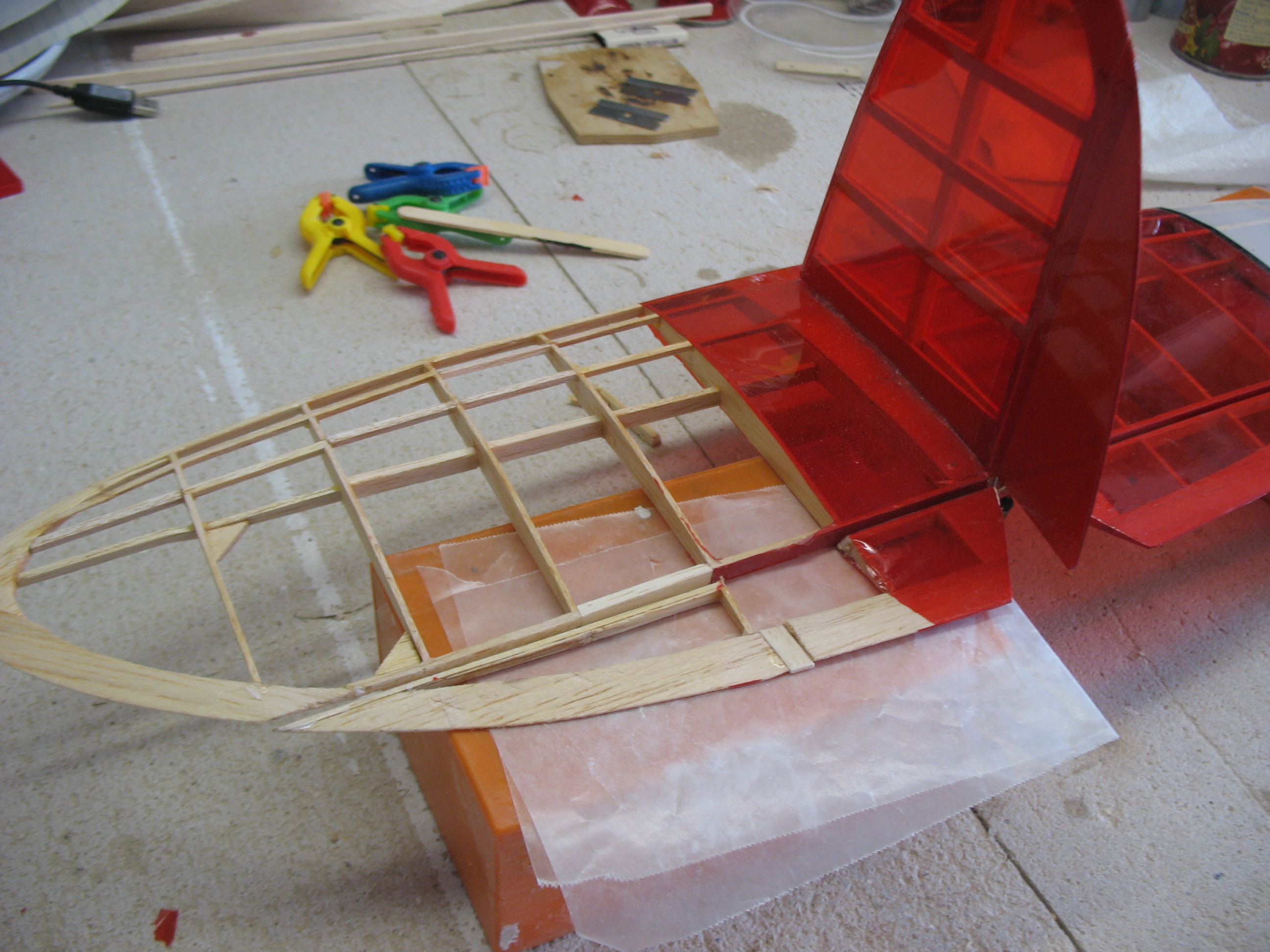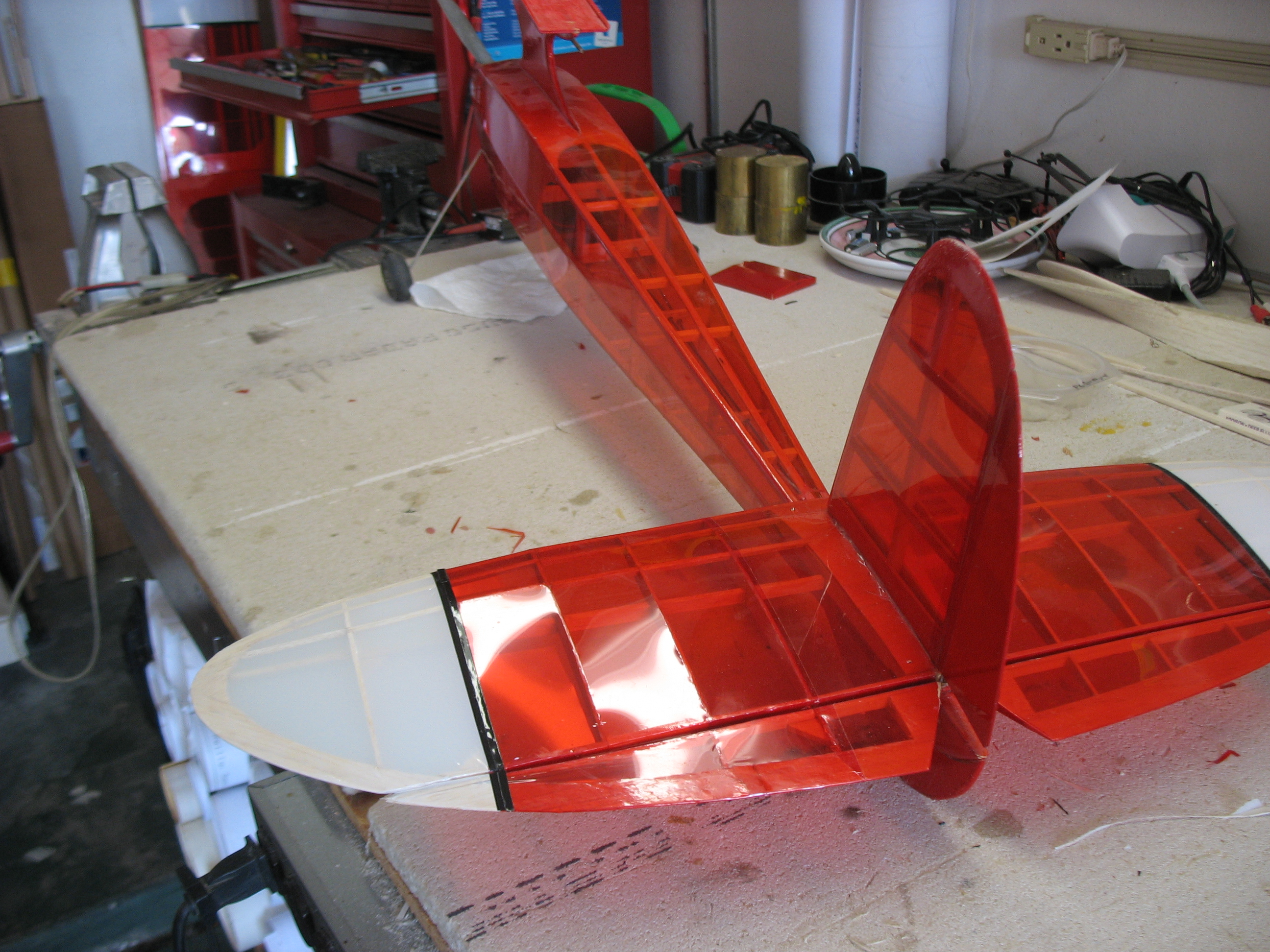 Richard Dick: The horizontal tail of the pylon Playboy was broken so I fixed it. It turns out the repair was not an easy fix because all the small sticks were broken in several places and each had to be replaced. The elevator is nor quite straight, but it shouldn't matter very much.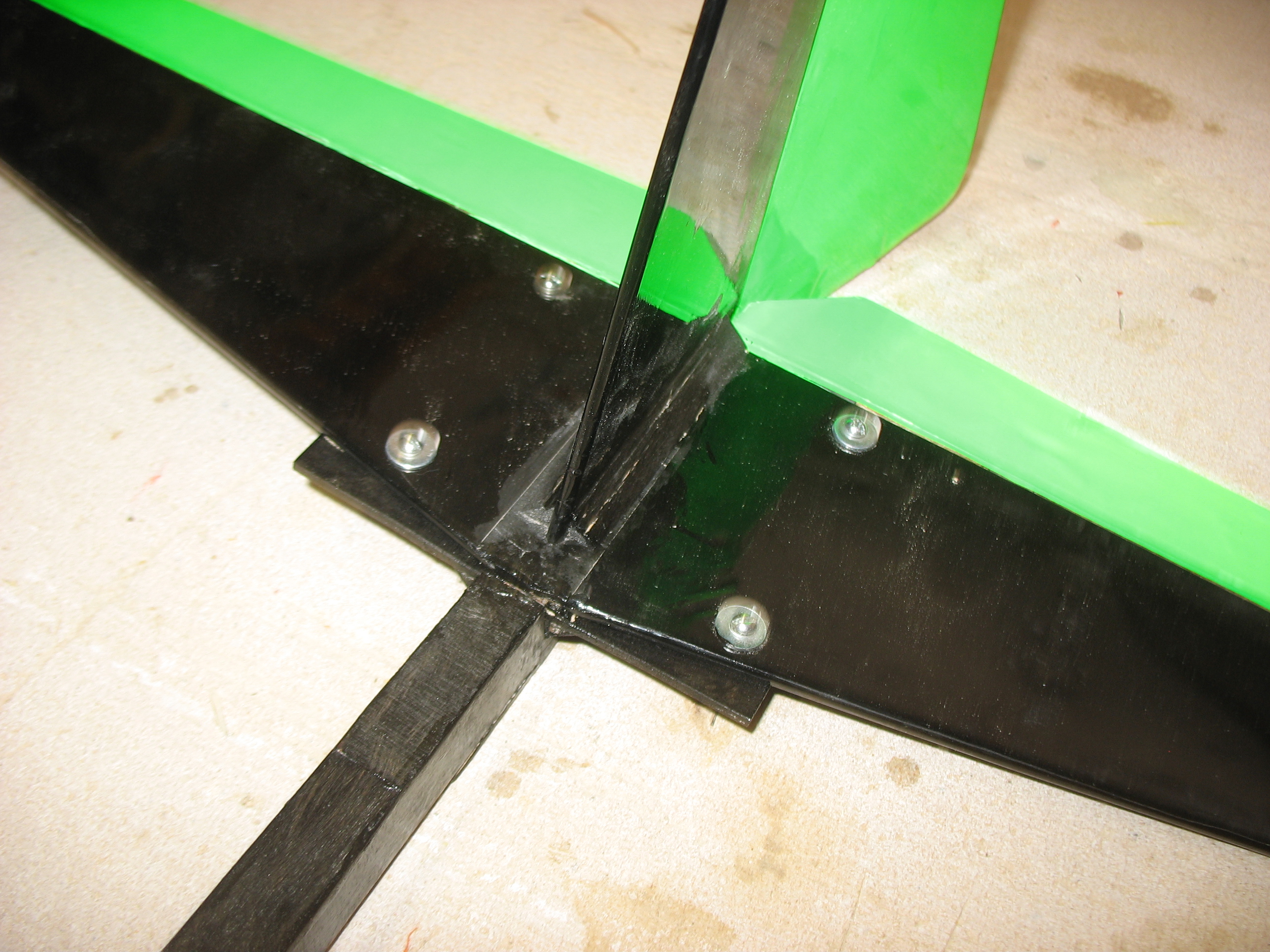 Richard Dick: The tail broke several times on the Opal RES, so I beefed up the tail section as shown in the photo. I also electrified the plane, but it doesn't show in the photos. The eOpal is now ready to maiden again.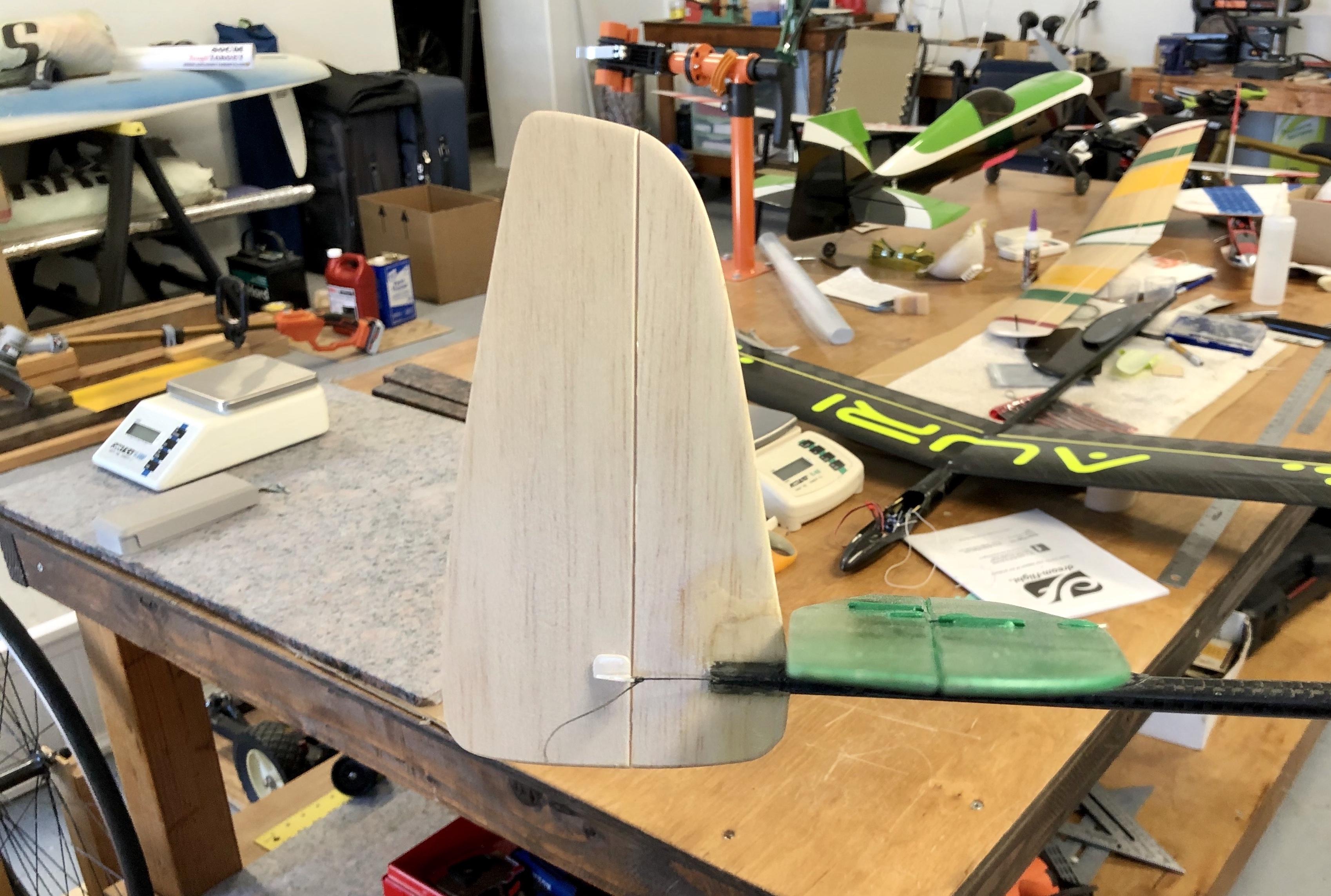 Nice shot of Ernie Buenafe's shop and and DLG tail mod.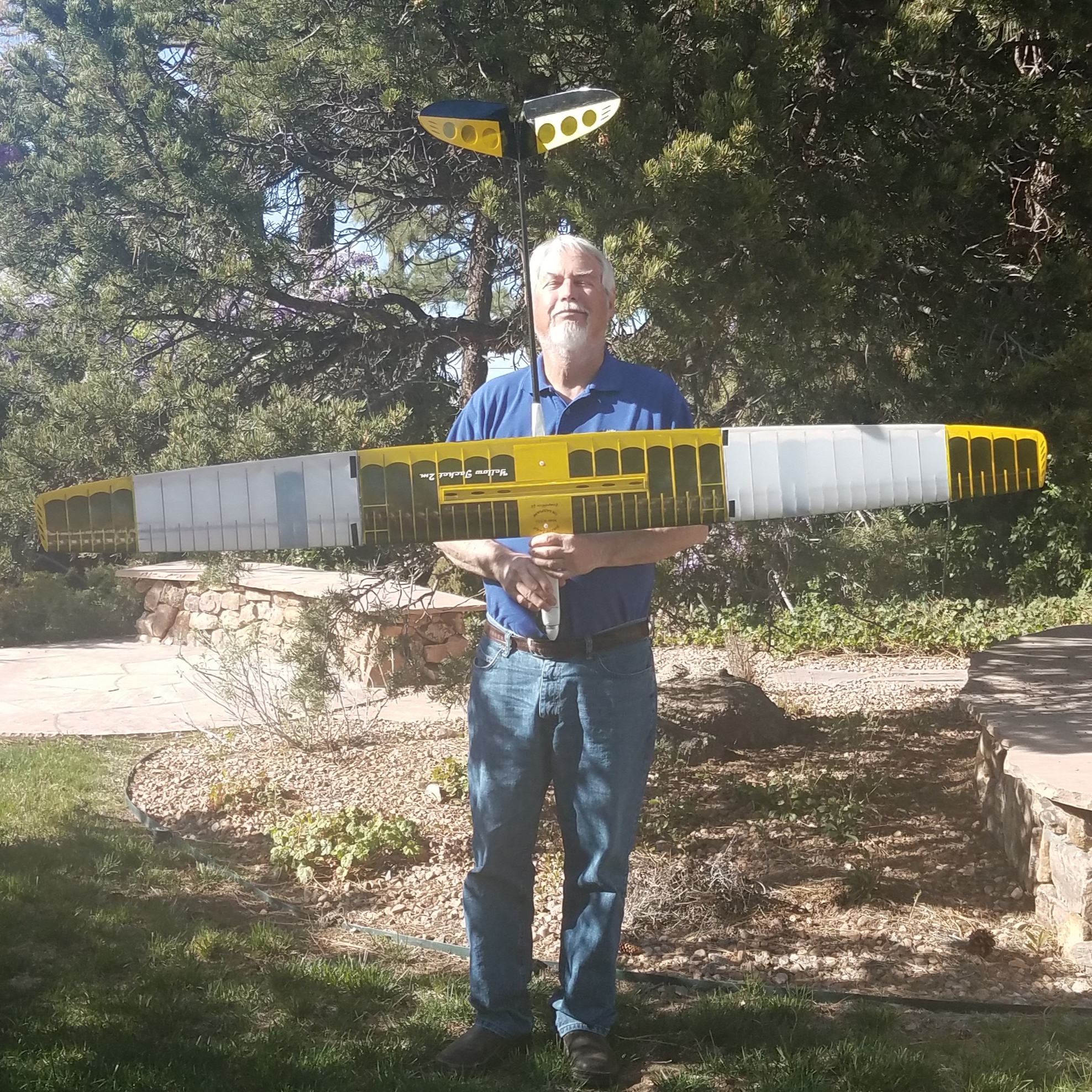 Your webmaster with his 2 meter yellowjacket electric.