---
The ASA offers several flying site choices to its members. No matter where you fly, safety should be the primary concern. Ensure that no one else is flying on your radio frequency!
Albuquerque Balloon Fiesta Park
---
Evergreen Turf Farm ("Sod Farm")
How to Get 911 Emergency Response at the Sod Farm
The more "serious" members of the club fly at Evergreen Turf Farms, a lush green sod farm in McIntosh, New Mexico. It's about 8 miles south of Moriarty see map. The best way to find the sod farm is meet up with other club members for breakfast before the day's flying. Look at the postings on our list serve the night before a scheduled flying session to see who's doing what. Some members commonly stop for coffee or breakfast at the Village Inn on Juan Tabo near Lomas before traveling out to McIntosh to fly on weekends.
Flying at the Sod Farm is a VERY SPECIAL privilege. We don't want to do ANYTHING to screw that up. For safety reasons, it is imperative that you hook up with the group that is going out there!
McIntosh (where the sod farms are...) is 10 minutes due south of Moriarty, on the Estancia Highway. Dan Tandberg has created the following detailed instructions and accompanying map:
Take Interstate 40 east to Moriarty, NM
Go past the first exit for Moriarty and take the second exit, "Exit 196, Highway 41, Howard Cavasos Blvd."
Turn right (south) on NM41--0 miles
Pass the A-80 & A-87 Junction--4.6 miles
Pass the A-90 Junction--5.6 miles
Pass the A-83 Junction--6.6 miles
Pass the A-81 & A-076 Junction--7.6 miles
Pass a windmill near the west side of the highway—7.9 miles
At 8.6 miles on the west side of the highway you will see a white house with a blue metal roof. This house is at the Otero Ave. intersection. Turn left (east) on Otero Ave. (a dirt road).
Go one mile east on that dirt road to the white gate of Gardner Turf Farms.
Continuing east, there are four irrigated sod circles, look for Sailplanes!

If, traveling south on Highway 41, you get to the McIntosh Post Office, you've passed the Otero Ave. turnoff!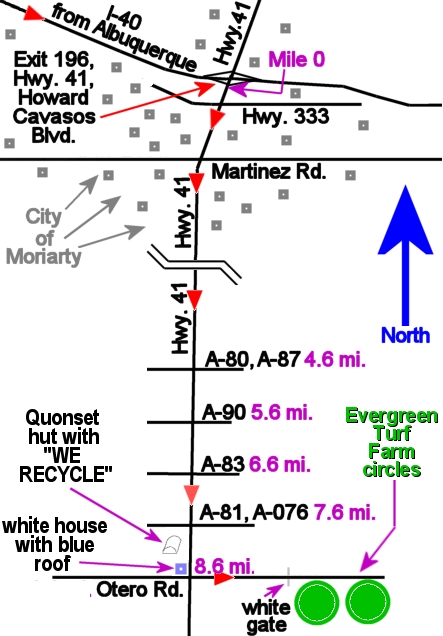 Once you have reached the sod farm, you have to get inventive and look around and find where the guys are flying. There are 5 BIG sod circles there. Wind direction and what is being done with the sod farming operation will determine where we are flying. If you decide to fly by yourself (NOT RECOMMENDED!), make ABSOLUTELY CERTAIN that you are the only ones there. We do not need to be "shooting each other down" with frequency conflicts!
This is why we recommend that you hook up with the guys for breakfast. Better to be safe than sorry!
Click HERE to see an aerial photo of the sod circles at McIntosh.
Events at the Sod Farm include yearly contests for electric sailplanes (F5J) [with that linked to http://www.soarabq.org/f5j.shtml] and discus-launched sailplanes (Blue Skies over New Mexico) [with that linked to http://www.rcgroups.com/forums/showthread.php?t=1017689], informal club contests and "fun-flys", and a yearly club picnic. Our informal contests—usually Saturday mornings—include thermal duration (mostly launched using an electric winch), electric sailplanes, discus-launched sailplanes, and "Hiss 'n' Boink".
Our Hiss 'n' Boink contests are intended for 2 meter, floater type sailplanes launched using a high-start. For more information on the Hiss 'n Boink contests send an e-mail to: